Three Days, Three Counties.
A Traditional Muslim Wedding for Muhammed & Sana.
The day I met Sana and discussed her Muslim Wedding it was a gloriously sunny April Spring day. One of the first nice days after a long, cold and miserable Winter. Sam and I were due to exhibit at The Grand Venue in Clitheroe. I have to admit, I was tempted to set up the stand and leave it unmanned. The temptation to explore the quaint town that is Clitheroe left me trying to convince Sam to come with me, but she put her foot down and insisted we stay, and oh how glad am I that we did.
From the moment we met Sana I knew I wanted to Photograph her Wedding. When she quietly asked me in her gentle tone "Do you Photograph Muslim weddings?" I answered her honestly that I had never Photographed a Muslim wedding, but would love too.
Sana was accompanied by her Mother, Kay and they proved to be two of the nicest ladies I have ever met. They were both the epitome of ladylike and exceptionally well spoken with an obvious high regard for other people.
Sam and I admitted that we knew very little about Muslim weddings. Kay and Sana patiently began telling us more of what their requirements would be, awakening all of our senses. By the time they had finished both Sam and I were tingling with excitement for Sana's Wedding, it sounded spectacular. Our homework started before having left the Wedding Fayre!
I met with Sana and her parents at their house in Preston. From the moment I arrived I was welcomed into their family home as though I was a long-standing friend. Food was brought out which Sana and Kay had prepared especially for me, this was no business meeting but a feast! The food was delicious and very much appreciated.
Preston.
The Wedding was to be spread over three days, over three different Counties. The first day was the Mehindi, in Preston and  Sana's hands were beautifully painted with the traditional Henna.
There was also a feast of the most wonderful, aromatic and exotic food. I was seated amongst the guests and asked to join in the celebrations. Kay and her family checked on me every few minutes to see if I was OK and if I wanted or needed anything. They really did welcome me into their celebrations with open arms and I genuinely loved every minute  of my time with them.
Manchester.
The second day of the celebrations was held in Manchester at Bukhara Manchester banqueting and Restaurant. The day began with Bridal Prep at Sana's childhood home in Preston, this being one of my favourite parts of the day.
Sana would be wearing her traditional white wedding gown that she had hand made in Dubai.
And not forgetting her much loved and talked about personalised Jimmy Choo shoes.
Once Sana was ready we headed to Manchester for her to meet her Groom.
After the celebrations it was time for Sana to leave her family and begin the next chapter in her life with her new husband. Emotions ran high with every single guest emotional yet excited for Sana's departure.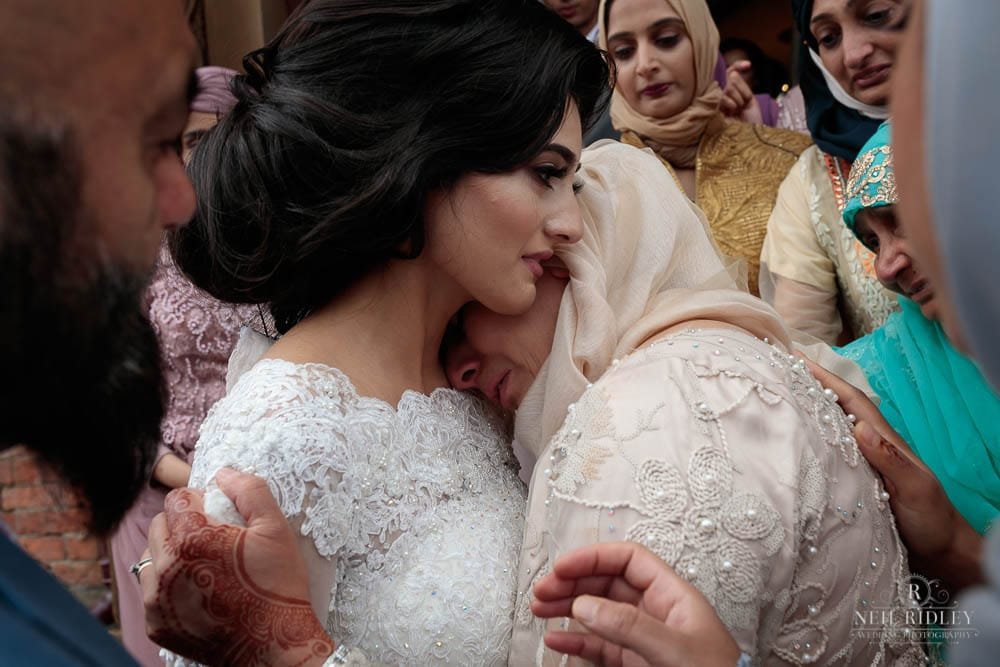 Before they could leave however, Sana's younger brother had jokingly taken Muhammad's car keys and was asking "How much is my sister worth to you?".  A charade played out with Muhammad taking out a roll of money and negotiating a fair price for his new Bride. I captured this moment with Sana's reflection in the wing mirror of the car laughing. This image is also my favourite and is included My Collection.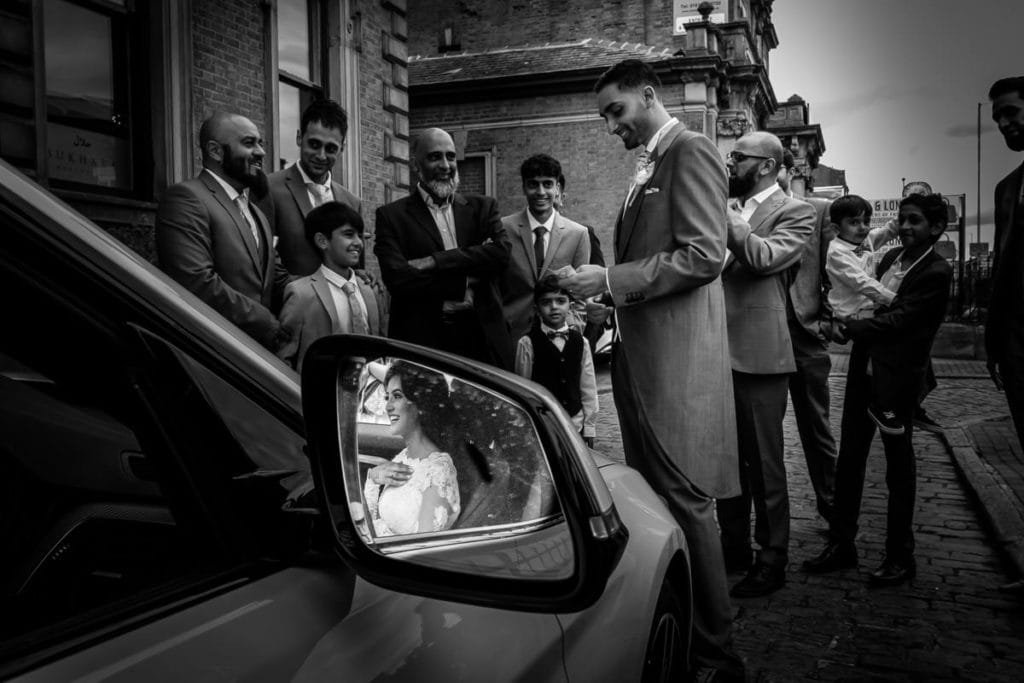 Birmingham.
The third and final day was to be a grand affair in Birmingham at the Tipu Sultan Majestic Dining. Both Muhammad and Sana wore stunning regal outfits of Royal blue and gold, with Muhammad's tall, dark mysterious good looks and Sana's natural beauty, they made a striking couple!
It truly was an honour to be a part of Muhammad and Sana's celebrations. I was embraced by their family and treated as if I was a member. They have so much love and respect for each other and it is very much apparent that love and family come before anything. I came away feeling very privileged that I had been a part of Muhammad and Sana's wedding and also a little sad that it was all over.
I hope you have enjoyed reading this blog, if so I would really appreciate you leaving a comment and sharing this post on Social Media by clicking any of the icons here [wd_hustle_ss id="social-sharing"]
Please do not hesitate to Contact Me if you would like to discuss your Wedding Photography Requirements or have any further questions.
(Visited 31 times, 1 visits today)