Sometimes a Wedding Day comes along that fills me with a whole mix of emotions and Kajal & Sunil's Merrydale Manor Wedding was certainly one of these. I was excited, although I've shot Hindu Weddings before and they never fail to be filled with love, emotions, drama, noise and colour, I was aware of just how busy this one was going to be. I was nervous too, Wedding Days for Photographers are quite stressful, we only get the one moment, we cant re-stage things, and when the Wedding is as huge as this one the fear of messing up can be quite daunting. I was also on-edge as my second shooter for the day was the ridiculously awesome Neil Redfern, the guy whose work I follow in awe and also the chap who taught me everything I know about working with Off Camera Flash. Luckily Neil really enjoys second shooting so he jumped at the chance to come along.
I had met Kajal & Sunil at the National Wedding Show earlier this year in Manchester. They had a very impressive list of Photographers that they were looking at, all of the names on there were Premier League so I was flattered to be considered alongside them. After a Skype meeting the deal was struck and I knew I would be shooting an amazing Wedding at an awesome venue with a simply fantastic couple (I make no apologies for all the effusive comments here!)
The Pre Wedding Shoot
We had our Pre Wedding Shoot at Beacon Fell in Lancashire on an incredibly bright and sunny day. Kajal & Sunil travelled up from their home near Manchester on this glorious day as they had seen my previous Pre Wedding Shoots and wanted a similar look. We had discussed Formby Beach but dismissed it as if it had rained it would have limited our options. We needn't have worried about rain!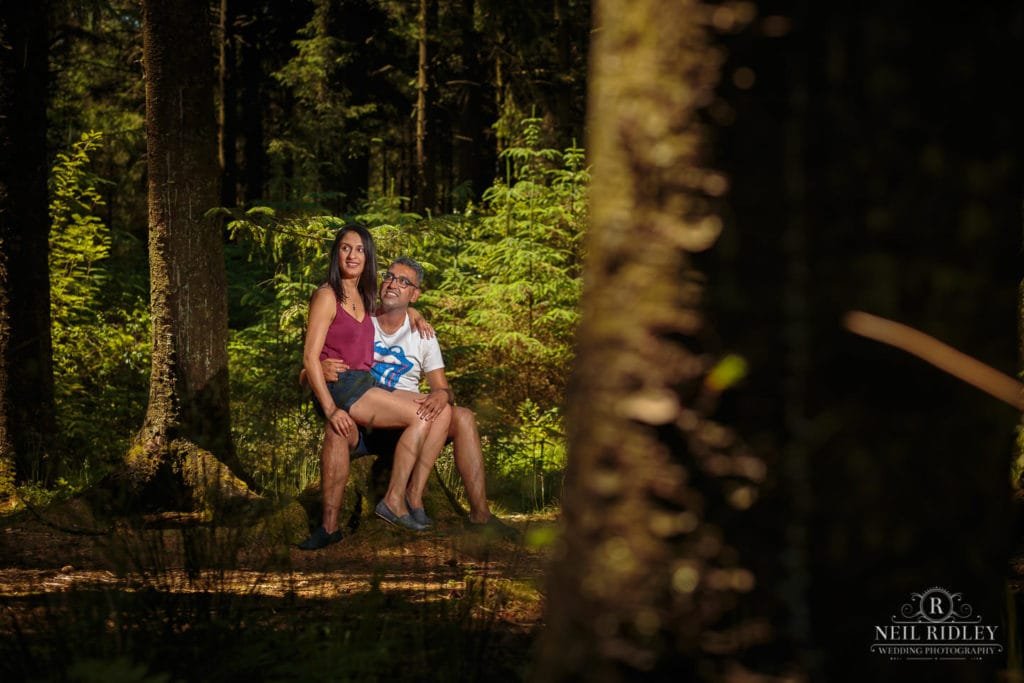 The Wedding Day
I caught up with Kajal at the De Vere Cranage Hall Hotel in Crewe. Kajal's sister welcomed me at Reception and escorted me to Kajal's room where her Mother and makeup artist were hard at work. Normally during Bridal Prep there is soft music playing, or occasionally some upbeat dance music. Not here. On the TV was a replay of Burnley vs Southampton, not quite what I was expecting. Whilst there we were joined by Stefan from YSD Media, an extremely talented videographer who I have worked with several times now.
Merrydale Manor
Nestled in the Cheshire countryside, Merrydale Manor is an exclusive sister venue to the equally beautiful Colshaw Hall. Through the village of Over Peover, the long sweeping drive leads up to the manor house and Ceremony Room set in acres of manicured gardens with its own lake. This is an amazing setting for a Wedding.
Despite a brief shower the weather was holding up for Kajal, Sunil and their guests. The sky remained dark and cloudy but this just added to the drama of the day. Never fear the rain on a Wedding Day – it looks fantastic!
While Kajal & Sunil's guests were arriving I took the opportunity for a slightly different take on the standard 'Dress Shot'.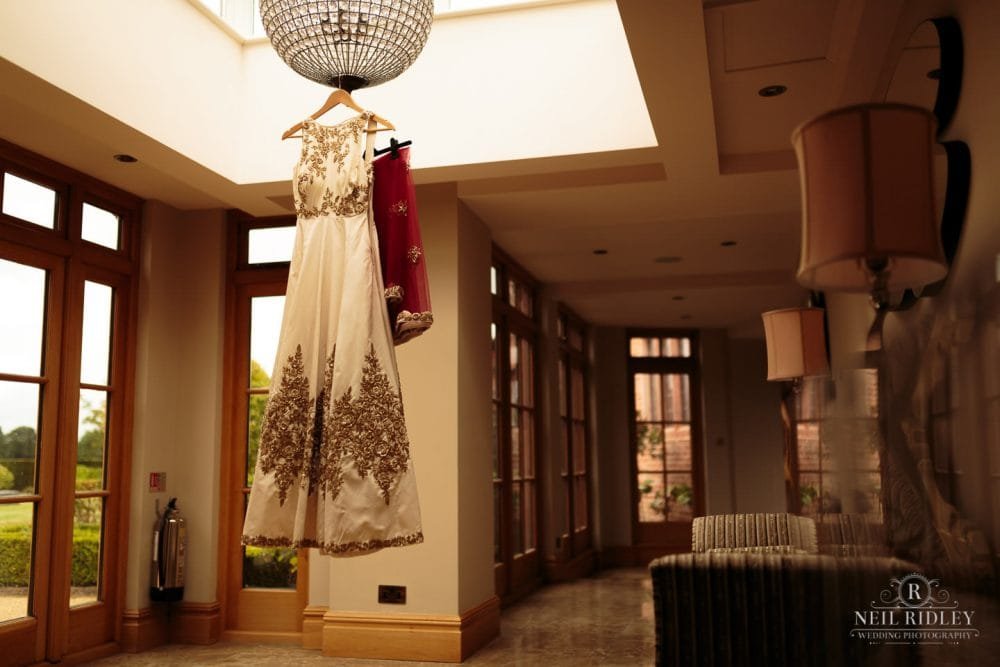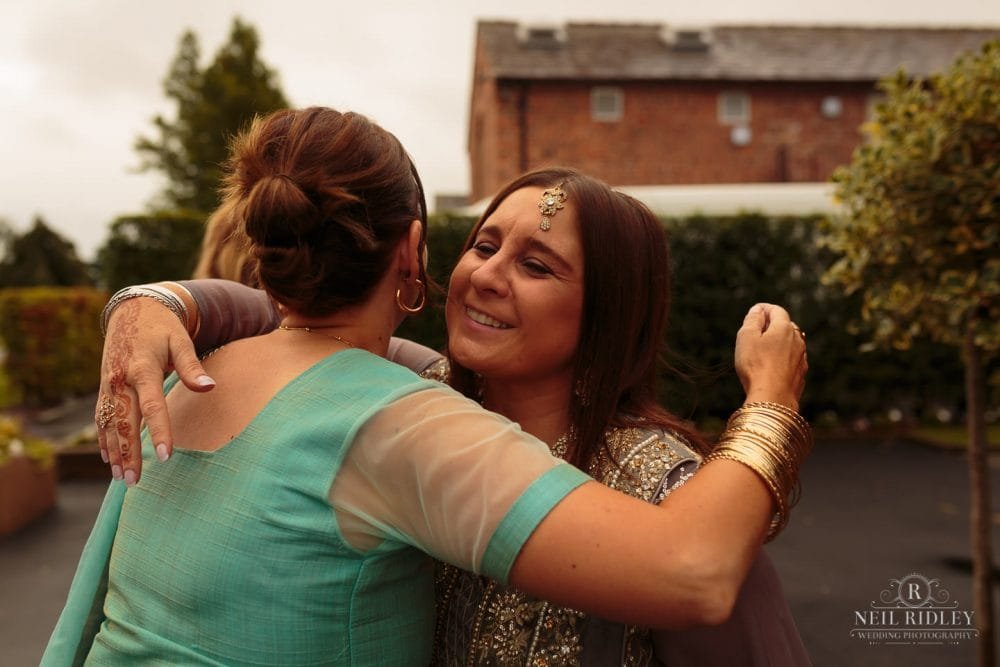 Sunil's Arrival – The Baraat
Oh wow. Just WOW! The Baraat, or Jaan is the arrival of the Groom at the Wedding Venue (or Brides City) and is noisy, dramatic and great fun 🙂 Sunil arrived in his BMW convertible with his Sister and Mother, both looking beautiful in traditional Sari. The procession involved around 15 cars, all driving slowly in convoy, sounding their horns and calling as much attention to themselves as possible. Sunil's arrival then continued with a dancing procession to the doors of the Ceremony Room.
Lots of traditions were observed as Sunil was welcomed by Kajal's family.
Kajal arrived smiling and confident and made her way down the aisle to where Sunil waited under the Mandap hidden from view behind an ornate cloth. After Kajal was seated the cloth was dropped and the couple saw each other for first time that day.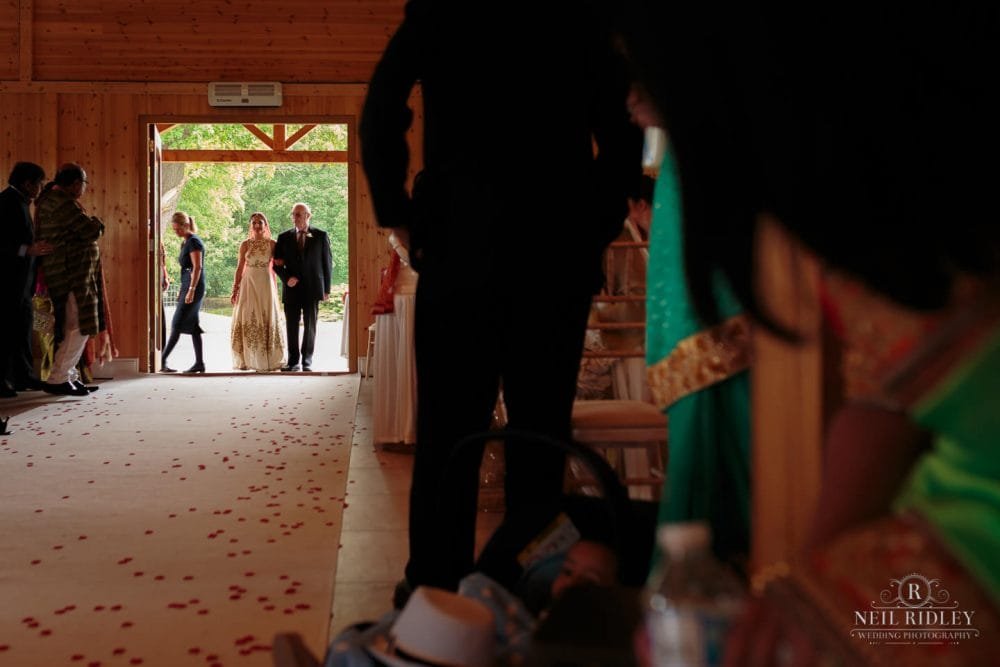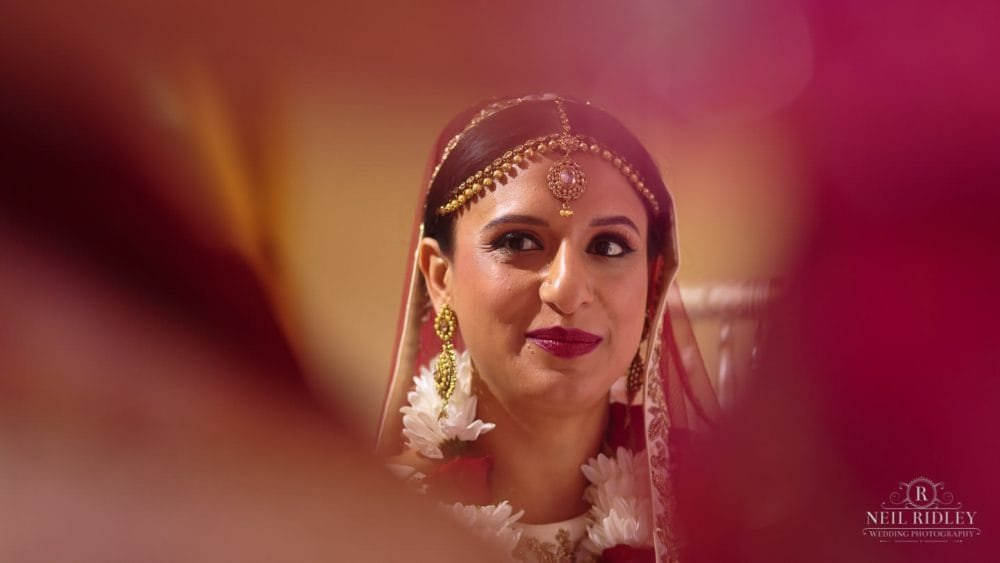 The ceremony was a relaxed affair with family and friends taking part and whispering blessings at the right times.
With the Hindu service complete the guests were treated to a meal before the majority left and we had some time to grab a couple of portrait shots in the grounds.
A full day for some guests….
Then we had the privilege of witnessing another service for Kajal & Sunil, the registry wedding. With Sunil changed into a smart Ted Baker suit and Kajal looking amazing with her hair down and uncovered we began all over again!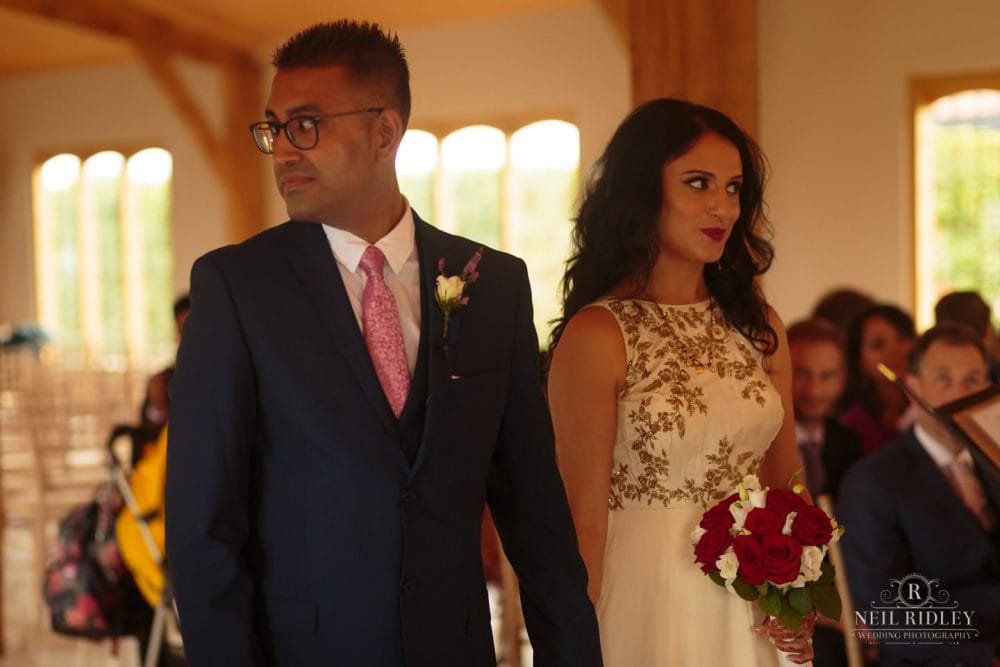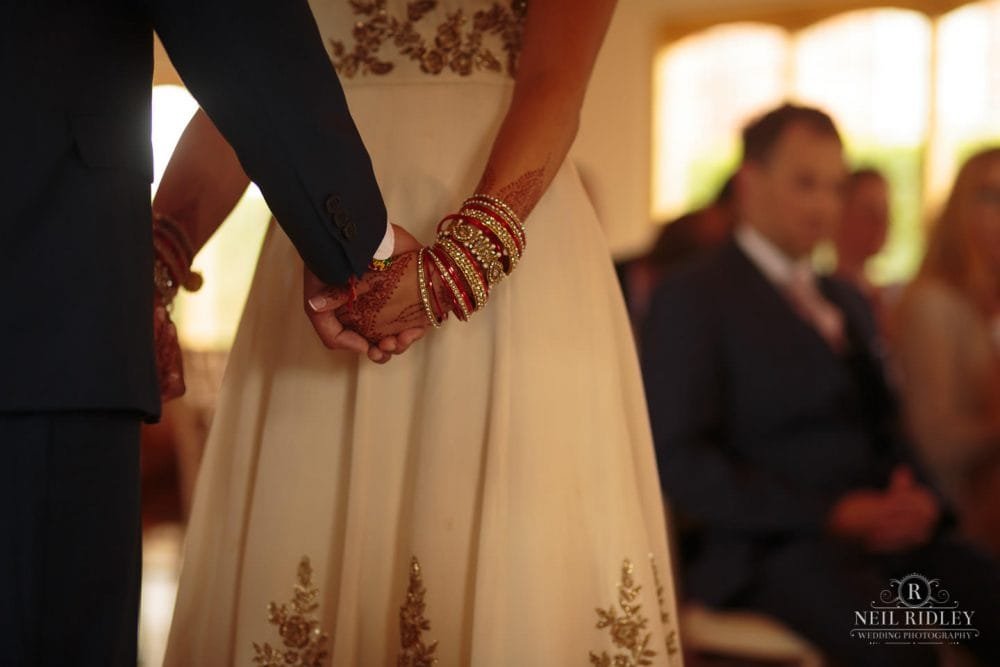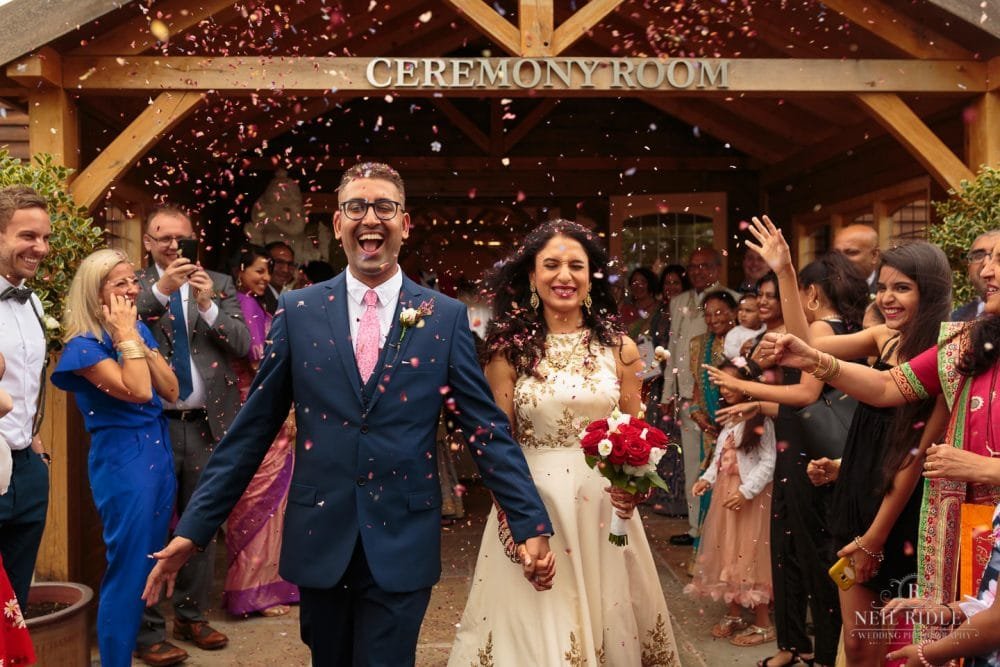 Even though the day was hectic Kajal & Sunil managed to squeeze in a few minutes for some informal portrait time. A simple 5-minute walk around the grounds is usually sufficient time for me to capture some memories for the Bride and Groom.
The Evening Reception
Speeches generally follow a few predictable routes, again Kajal & Sunil's Wedding Day did not disappoint. Sunil's Brother, The Best Man, did an impressive job despite his self-confessed nerves, reducing several of the audience to tears then recovering them with laughter.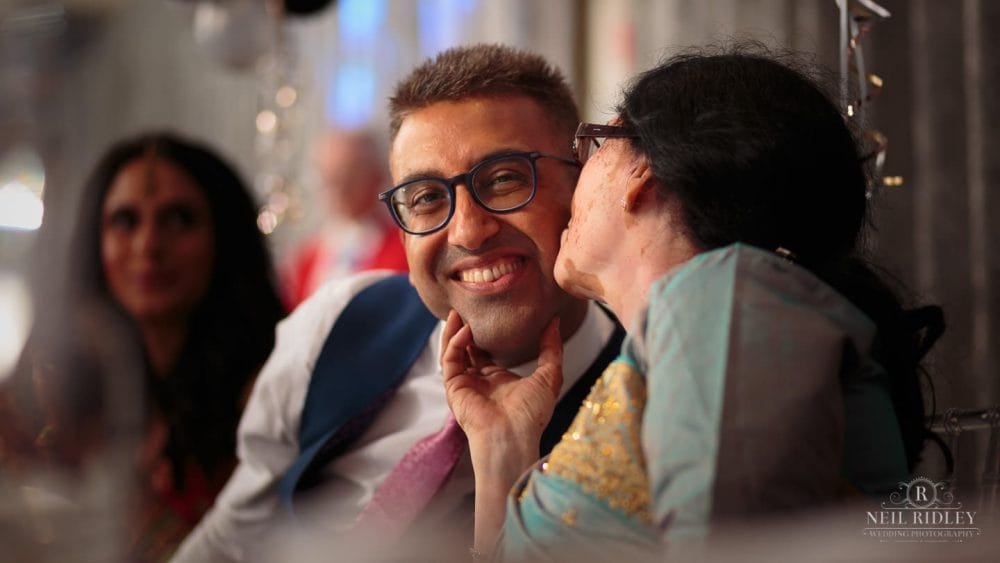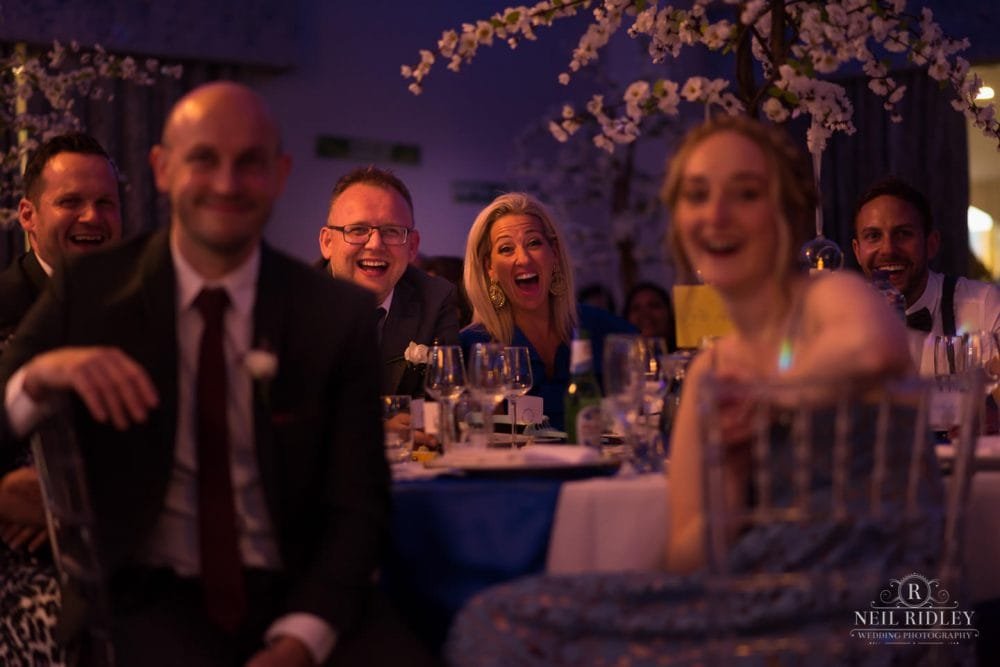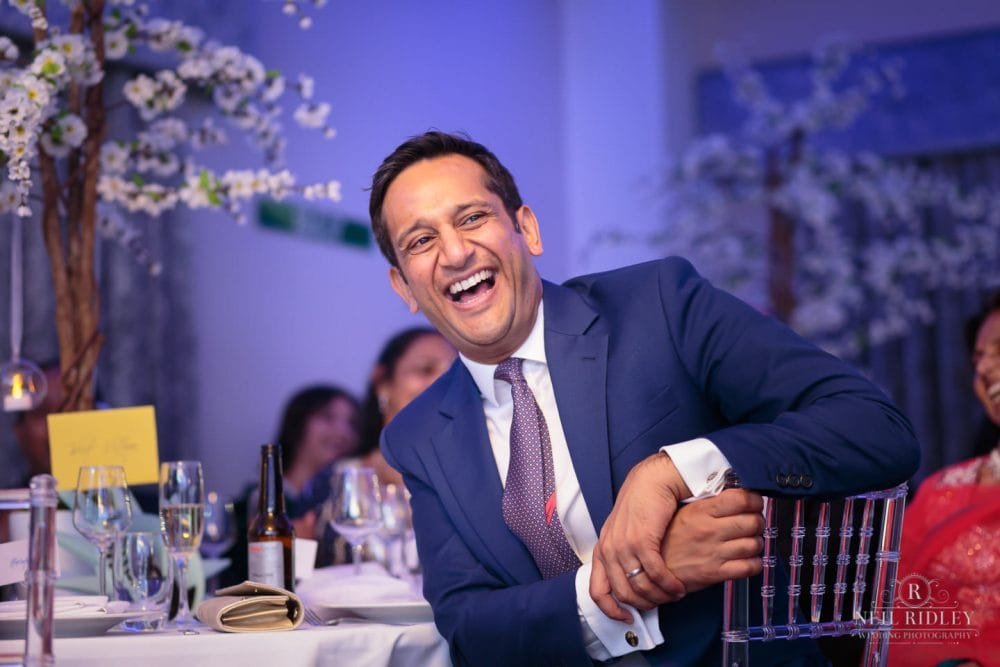 The Party
Ever partied at a Hindu Wedding? No? You should! None of the usual waiting around for the dance floor to fill up, this dancefloor was packed from the moment the First Dance finished until long after I was home and in bed. Everyone was up there, from babies to Grandparents. Kajal & Sunil's family and friends danced and danced and danced.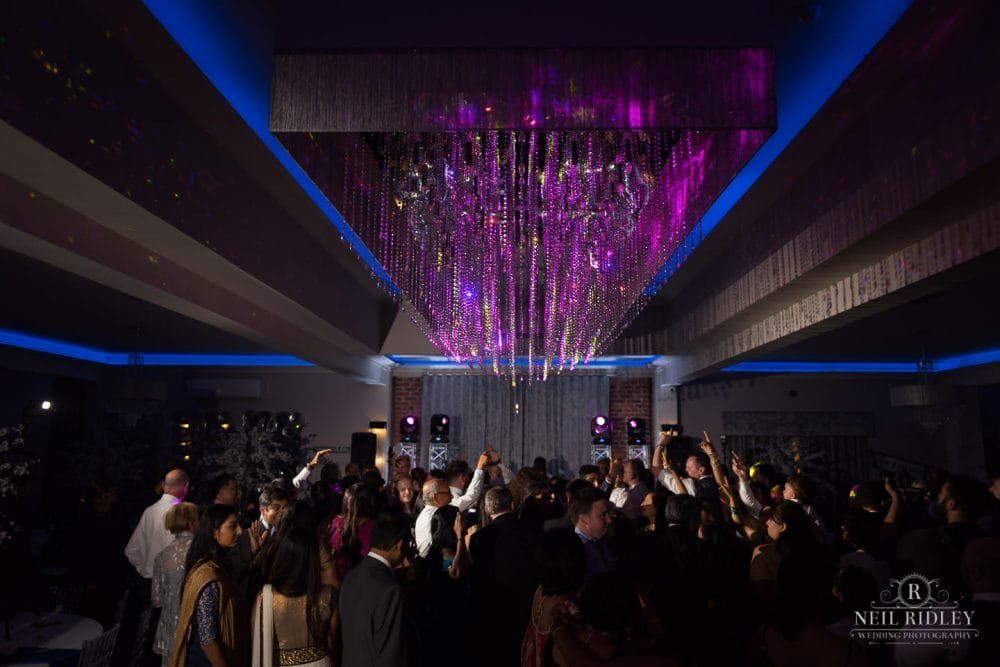 The End of the Night
While the dancing was going on #TeamNeil or Neil2 as we had begun to be known, were outside playing with a high powered strobe, some flashes and the fountain. I try to create a 'Magazine Cover' type image, sometimes creative, other times just a perfect portrait. This time Neil and I went all out with this shot through the spraying water. One flash shooting through the water with a red gel and another flash behind Kajal & Sunil to backlight them.
I pretty much love this shot!
A massive thank you to Kajal & Sunil for trusting me with your Wedding Day, I had an absolute blast! Also, thanks again to Neil Redfern for tagging along and producing such amazing shots.
[sc name="endbit"]