Helen and Ant
I first met Helen and Ant at a wedding fayre I was exhibiting at in Blackpool at the Hilton Hotel.  Ant appeared relaxed about his wedding plans, whilst Helen had an air of excitement that was contagious, and I quickly became as excited as she was for her wedding plans!
As is the case at many fairs, it was several months later that Helen and Ant confirmed they would like to book my services, and I was thrilled.
I met with Helen and Ant at Beacon Fell Country Park for their Pre Wedding Shoot and quickly got to know them. They soon relaxed and got used to the camera being around them and really enjoyed the experience of having a Pre Wedding Shoot.
The day previous to Helen and Ant's big day we had experienced torrential downpours throughout the day, and knowing of Helen and Ant's plans I was nervous about the weather. However, luck was on our side and I awoke to beautiful blue skies.
Helen was getting ready at her parent's house with Ant getting ready at The Big Blue Hotel in Blackpool. I had assigned Groom Prep duties to my second shooter, the very talented Rob Clayton who very kindly stepped in at the 11th hour and got some amazing shots throughout the day.
I arrived at Helen's parent's house bright and early, receiving the warmest of welcomes from Helen's parents, and was introduced to Theo the Turtle.

Theo is an important member of the family, with Helen sporting a tattoo of him on her foot.

Bridal prep was just getting underway, the Champagne was flowing and I got the chance to get some warm up shots of Helen and her bridesmaids.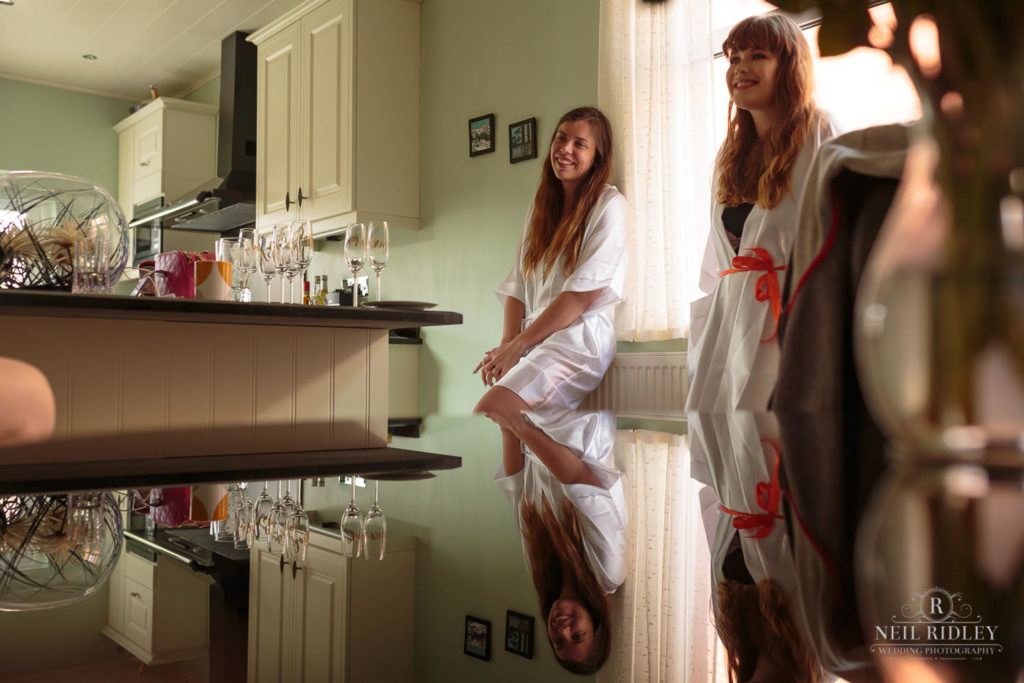 Dad was already in the kitchen with his apron on, busily cooking up the bacon sandwiches with the gardebn BBQ (dont ask) and making sure everyone's glass was kept topped up.


Katie from Sonara Parker was on hand to do everyone's make up…



With Natalie from SAKS of Lytham perfecting everyone's hair


Excitement filled the air as Helen and her Bridesmaids got ready. I always love bridal prep for this reason, seeing Mum and Dad fuss around and making their Daughter's morning as special as it possibly can be and also making sure everyone had eaten.


As bridal preparations were well underway, Rob was with Ant and his Groom Party, where there was lots of laughs and banter with enough time for a stroll on South Promenade.



Helen and Ant are avid Blackpool Football Club supporters and there was a strong Tangerine theme throughout the day. Every detail had been meticulously covered by Helen, her Mum and Dad hand making all of the stationary which even included a "Match Day Programme"

The stunning Flowers arrangements were created by Sonje Jones

…..which included precious photo charms in the Bridal Bouquet

The bridesmaids wore Tangerine Dresses from Cheshire Bridal in Altrincham, Cheshire.

With the Groomsmen wearing smart Grey suits with Tangerine accessories supplied by Moss Bros


In no time at all it was time for Helen to make her appearance for the first time fully made up and in her dress, and despite everyone saying they would not cry, nobody escaped a few tears.



Helen had to make two first appearances!  One for Dad and one for the Bridesmaids.

Helen looked radiant in her beautiful elegant Wedding Dress which was made by Essence of Australia..

And everyone equally loved her gorgeous Ted Baker shoes

The Church
Helen and her Father began their journey to St. Thomas Church in St Anne's-on-Sea, Lancashire.



Where Ant waited patiently for his beautiful Bride.



As the Church Organ announced the Brides arrival, everyone turned to stop and stare as a very proud and emotional Father walked his precious Daughter down the aisle.



The Priest was fully gowned in his robes, and with the beautiful stained window behind them, the Church Service with all the traditions was ready to begin.







Rings from Beaverbrooks and Embr were exchanged



As their guests watched the beautiful and emotional ceremony


Soon it was time to leave the Church as Mr & Mrs Summers and the couple were welcomed by very excited and emotional Friends and Relatives







Cloud cars were waiting to take Helen and Ant to The Great Hall at Mains,

…with a couple of scheduled stops on the way





The Wedding Breakfast
As the happy couple arrived at The Great Hall at Mains, they were greeted by their guests and a shower of confetti. Helen and Ant claimed this moment as their favourite of the day.




As the guests sat down for the traditional Wedding Breakfast, speeches were the general topic of conversation





Clear Blue Skies lasted throughout the day, enabling all of the Wedding Guests to enjoy the beautiful grounds of The Great Hall at Mains





Evening Reception
Helen and Ant had secretly been practising their first dance as a surprise for their guests.



And I think you will agree that Auntie Julie did an amazing job making the cake.


Soon they were joined on the Dancefloor by their Wedding Guests



As the Band On The Edge played spectacularly throughout the evening, the guests carried on parting well into the night. Helen and Ant's wedding day was perfect in every day and I feel truly privileged to have been a part of it.


To save photos to your phone, download the free Photo Moments app for iOS or Android
then click HERE to view the gallery.
Thank you for taking the time to read this blog post.
I would really appreciate it if you would leave a comment or perhaps share it on your own Social Media.