Dave & Sharon
Cheshire Wedding Photographer
Dave had been following my work online prior to meeting me at a wedding fair being held at Mcdonald Portal Spa and Hotel in Tarporley, Cheshire. He and his fiancee Sharon were getting married at the same venue that the fayre was being held in and had popped in to take a look around. Dave literally walked up to my stand, said 'I've seen you online, I'll be in touch' then walked away.  He booked me online that evening!
Dave continued following my work online, regularly liking and commenting on my social media posts. I was at The National Wedding Show at Event City in Manchester in Spring early this year, Dave and Sharon took the time to find us to say hello, a gesture that was most appreciated.
Bridal Prep
Dave and Sharon were both getting ready at Macdonald Portal Spa and Hotel which enabled me to cover both Groom and Bridal Prep. I began my journey early doors, setting off in bright blue skies and soaring temperatures in what has to be the U.K's hottest and longest heatwave in decades!
I joined Sharon and the girls in one of the large rooms at the Hotel with its own huge balcony.  The doors and windows were wide open allowing air and light into the room, both very welcome on this hot day.
Sharon was joined by her Bridesmaids whose laughter and excitement was contagious.  The bubbly was opened and the girls soon got used to the camera being in the room.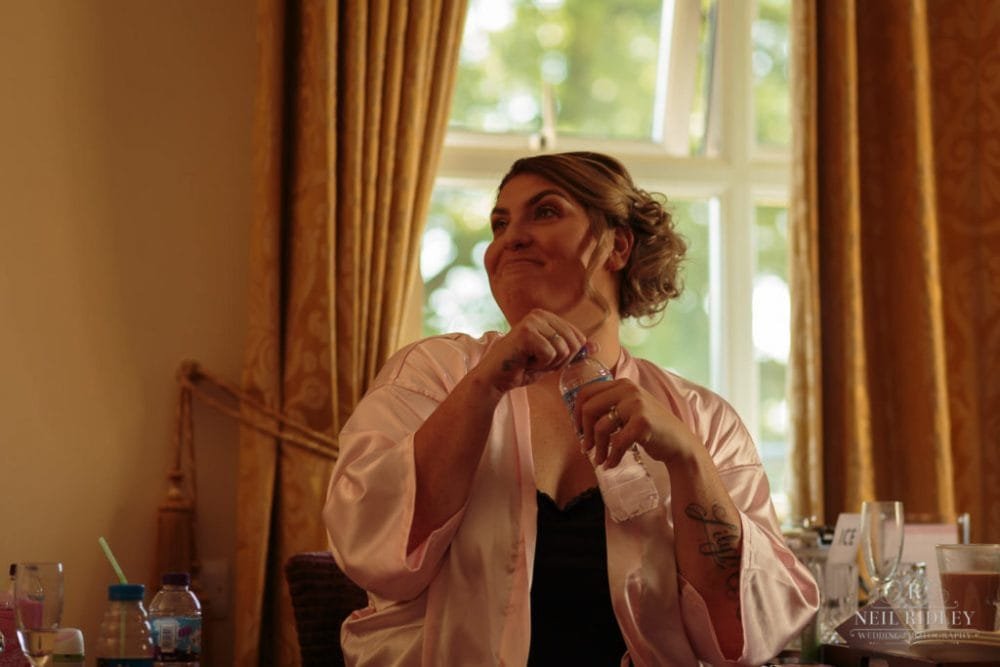 Chloe was on hand to make sure everyone looked their best.
With Natalie perfecting everyone's hair.
I left the Bridal party to drink their champagne and went to find Dave where he was making his final preparations during his Groom Prep
The day was proving to be sensational and as the guests arrived I was able to get some natural images whilst they enjoyed the beautiful summer day.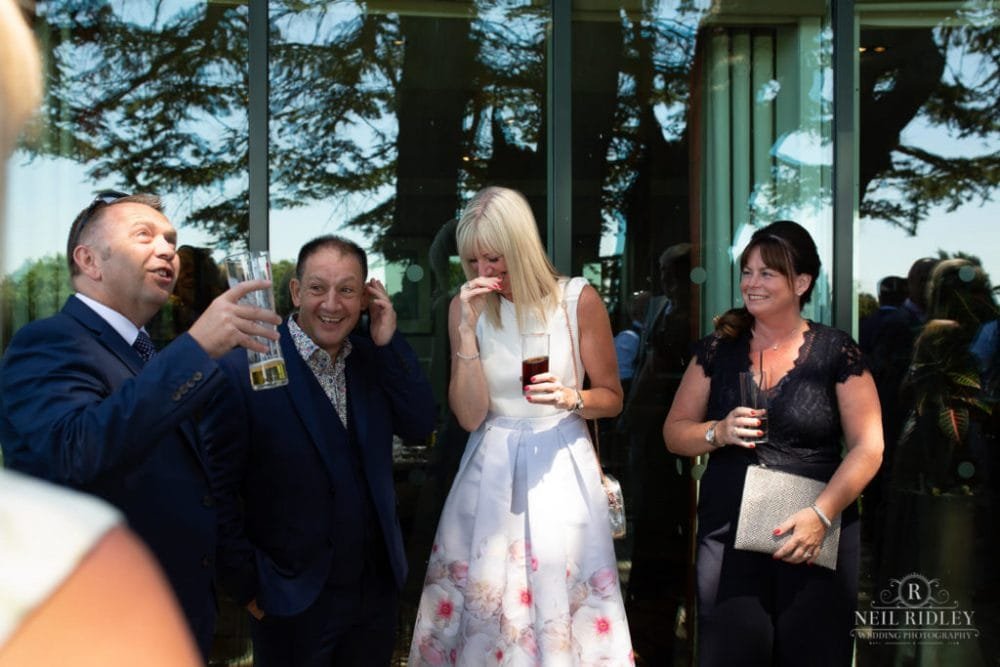 The Ceremony
Dave stood nervously waiting with his best man at his side.
Sharon looked beautiful in her full length wedding dress, and was escorted down the aisle by her very proud father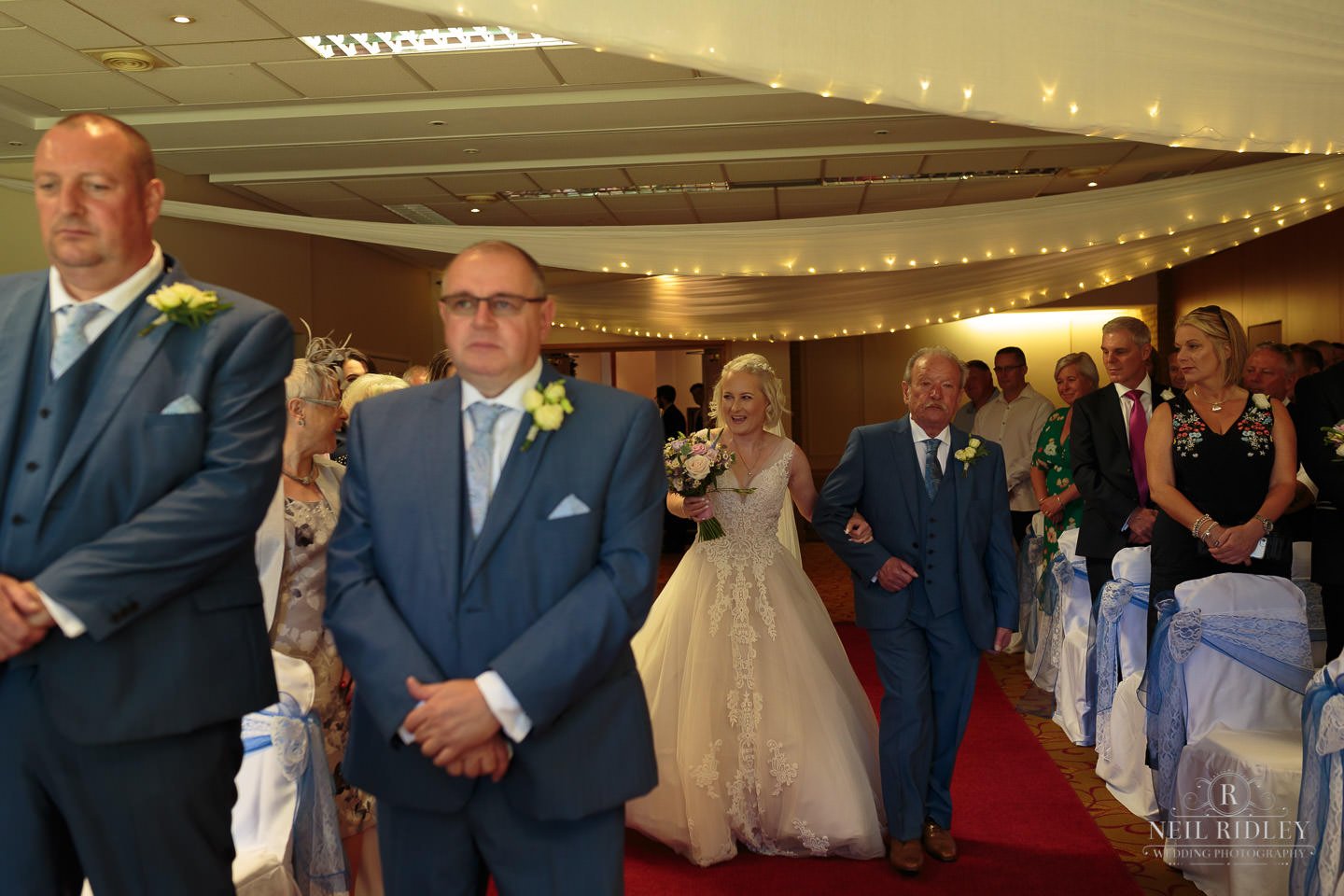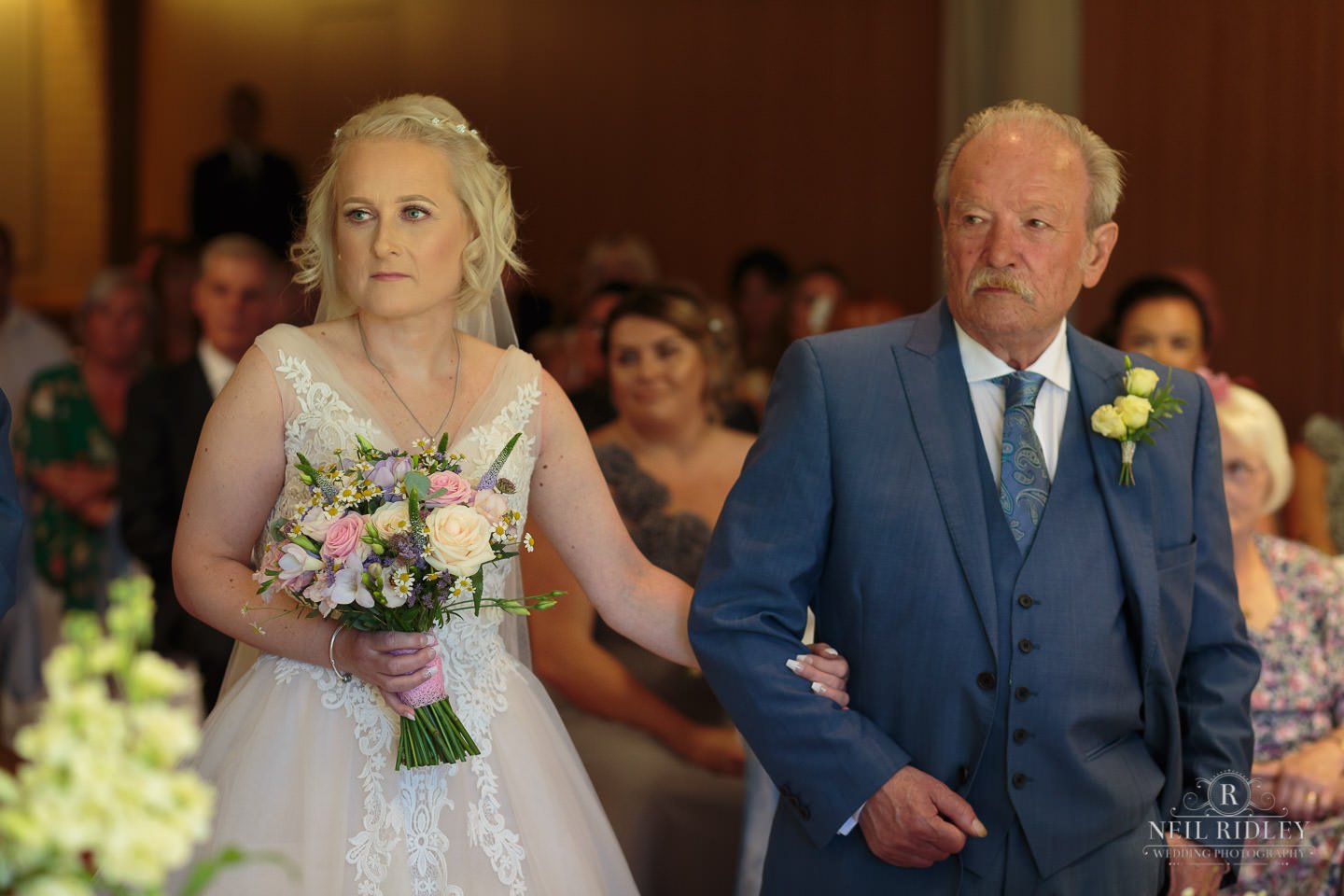 Emotions ran high, with Dave unable to look at his Bride for quite a while as he knew he would cry.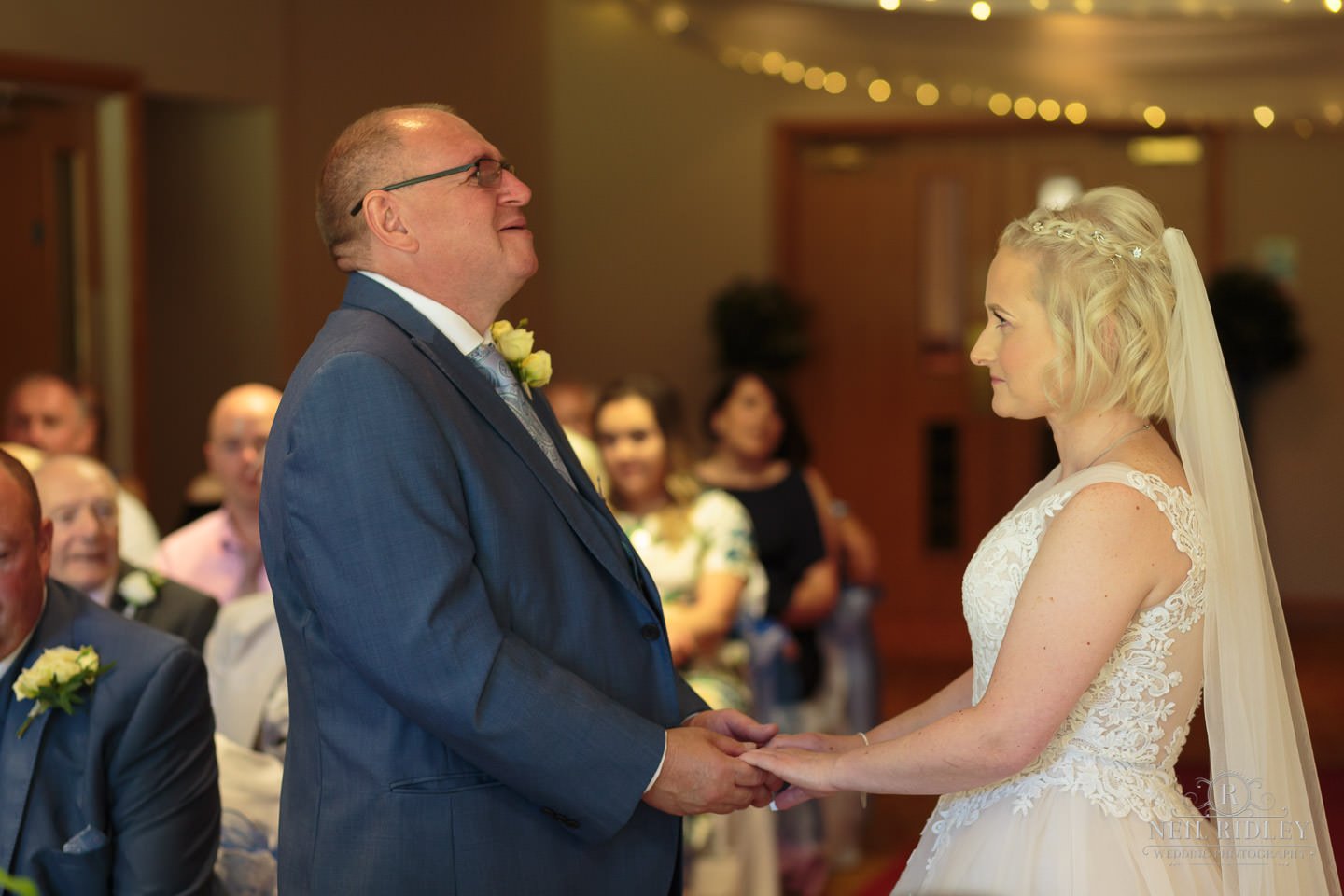 And as their guests watched in a hushed silence, Dave and Sharon exchanged their wedding vows and wedding rings.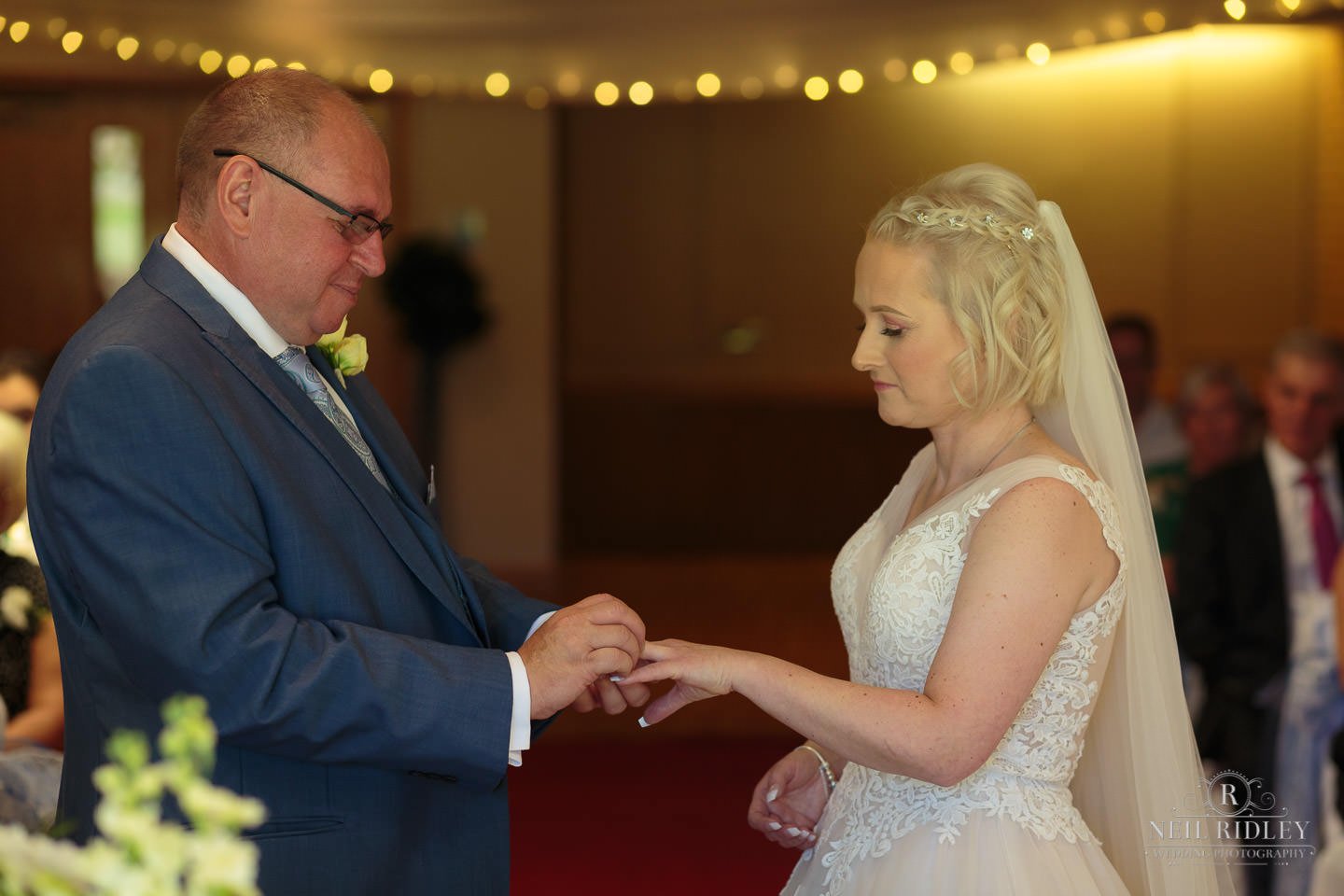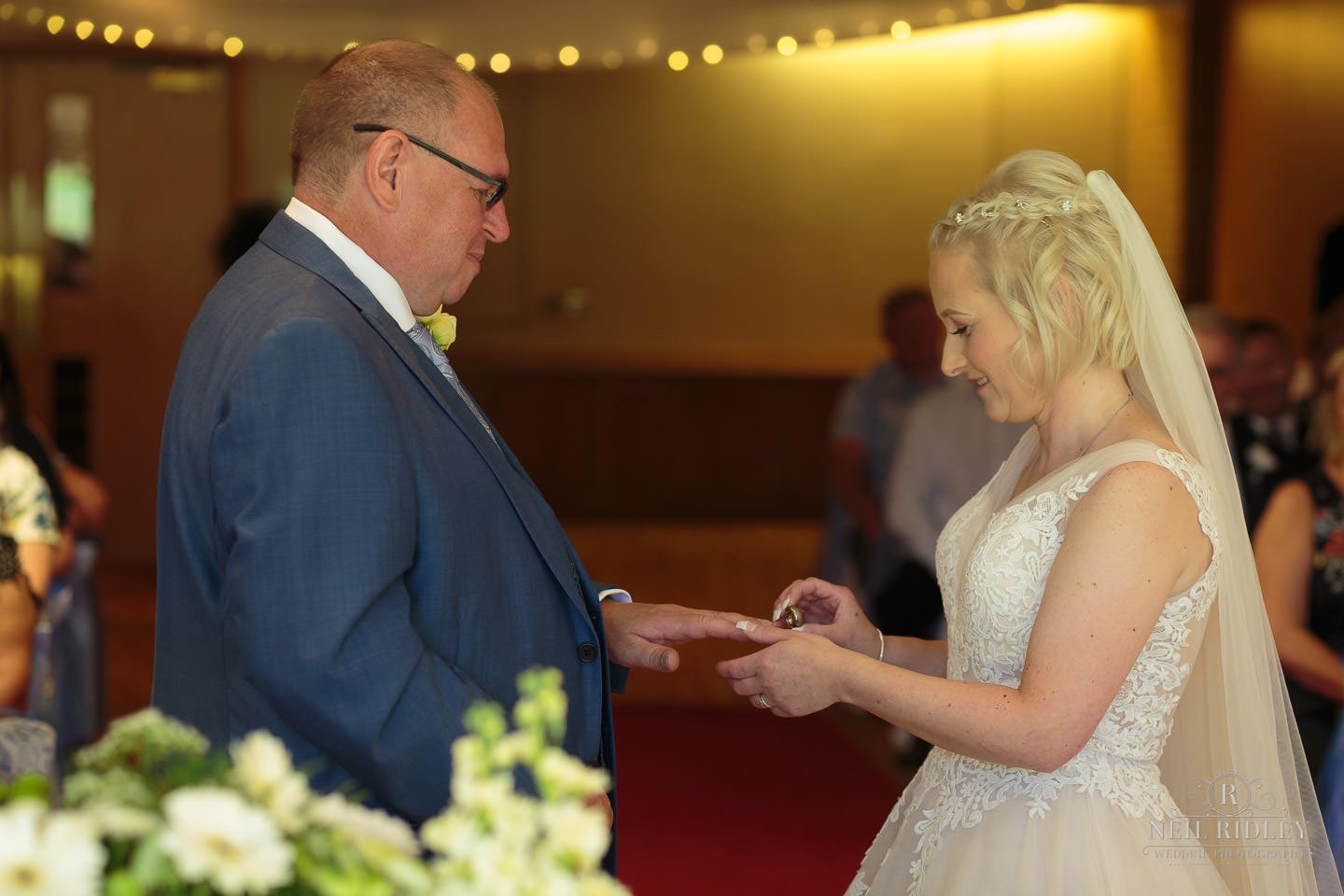 The Reception
After the ceremony the wedding party enjoyed a lovely reception. Everyone was in a celebratory mood and was having fun outside in the glorious sunshine.
Whilst the guests enjoyed the beautiful weather, I was able to take Dave and Sharon onto the golf course of Macdonald Portal Spa and Hotel and capture some portrait shots of them.
Then it was back to the party for an appetising wedding breakfast and once everyone had finished, it was time for the speeches, which had the guests both laughing and crying in equal measure.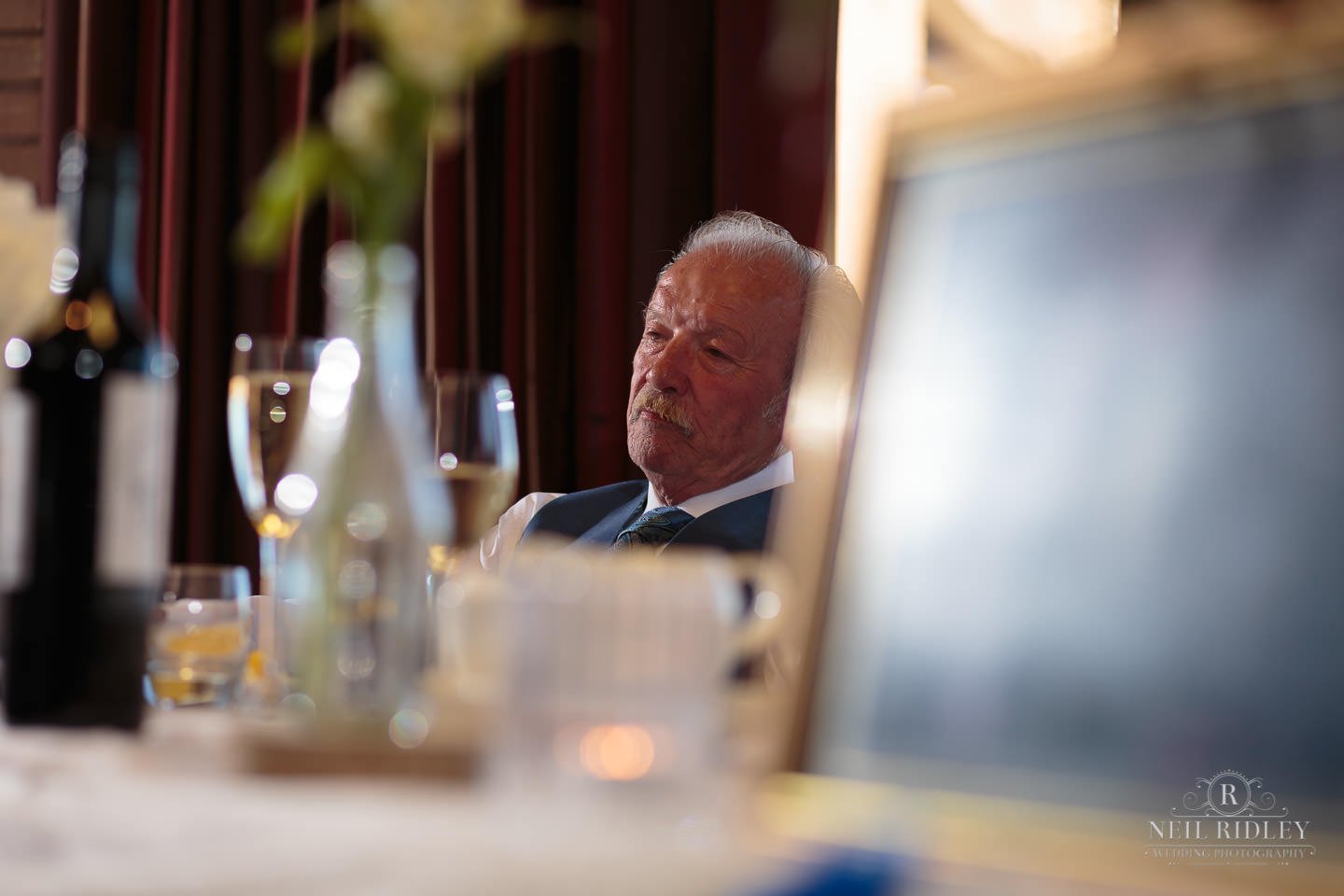 Presents were given…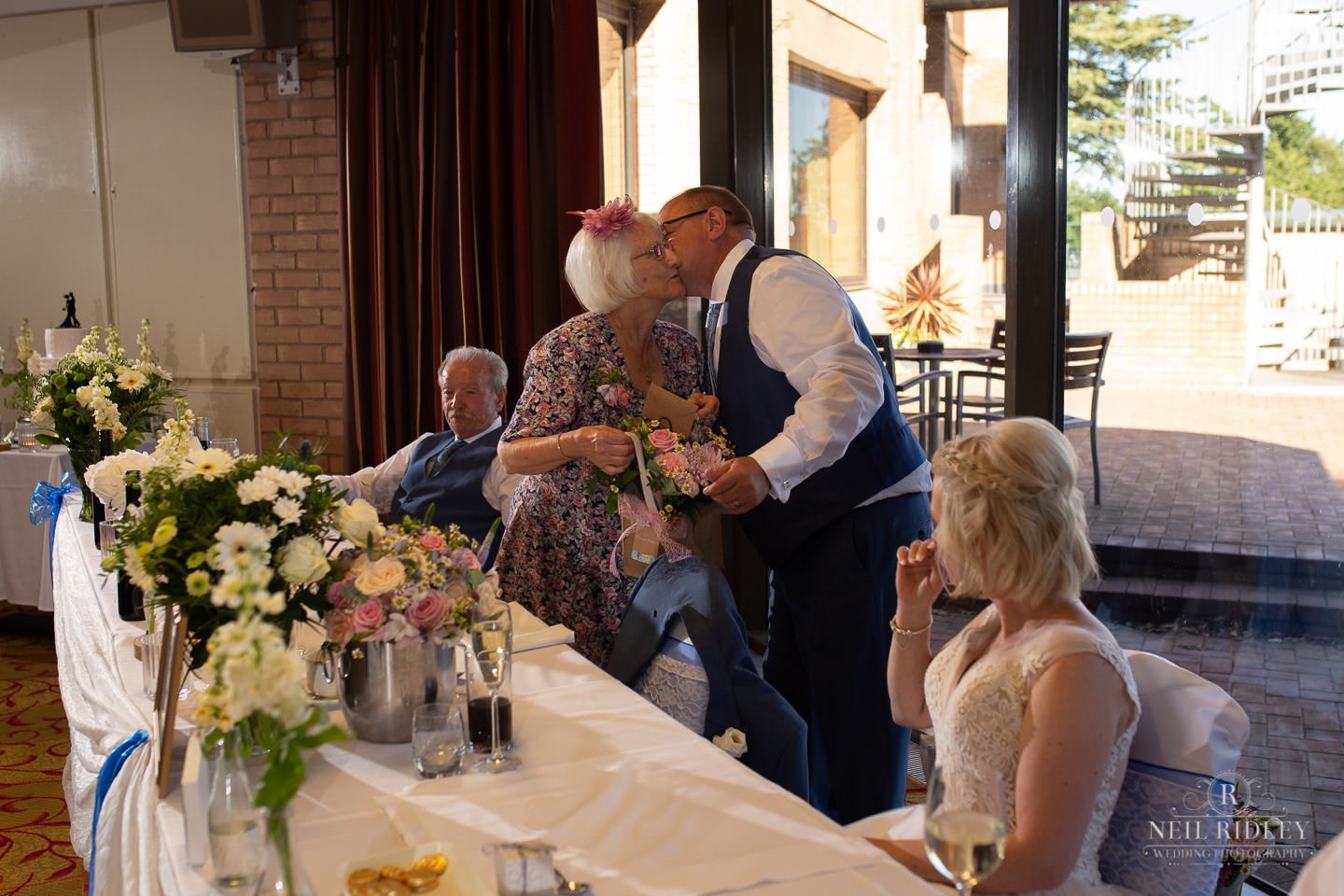 ….and lots of hugs exchanged
The Party
The party exploded into life and the Magic mirror kept everyone entertained.
A delicious chocolate fountain was present with every delight that you could imagine.
The stunning cake was cut into…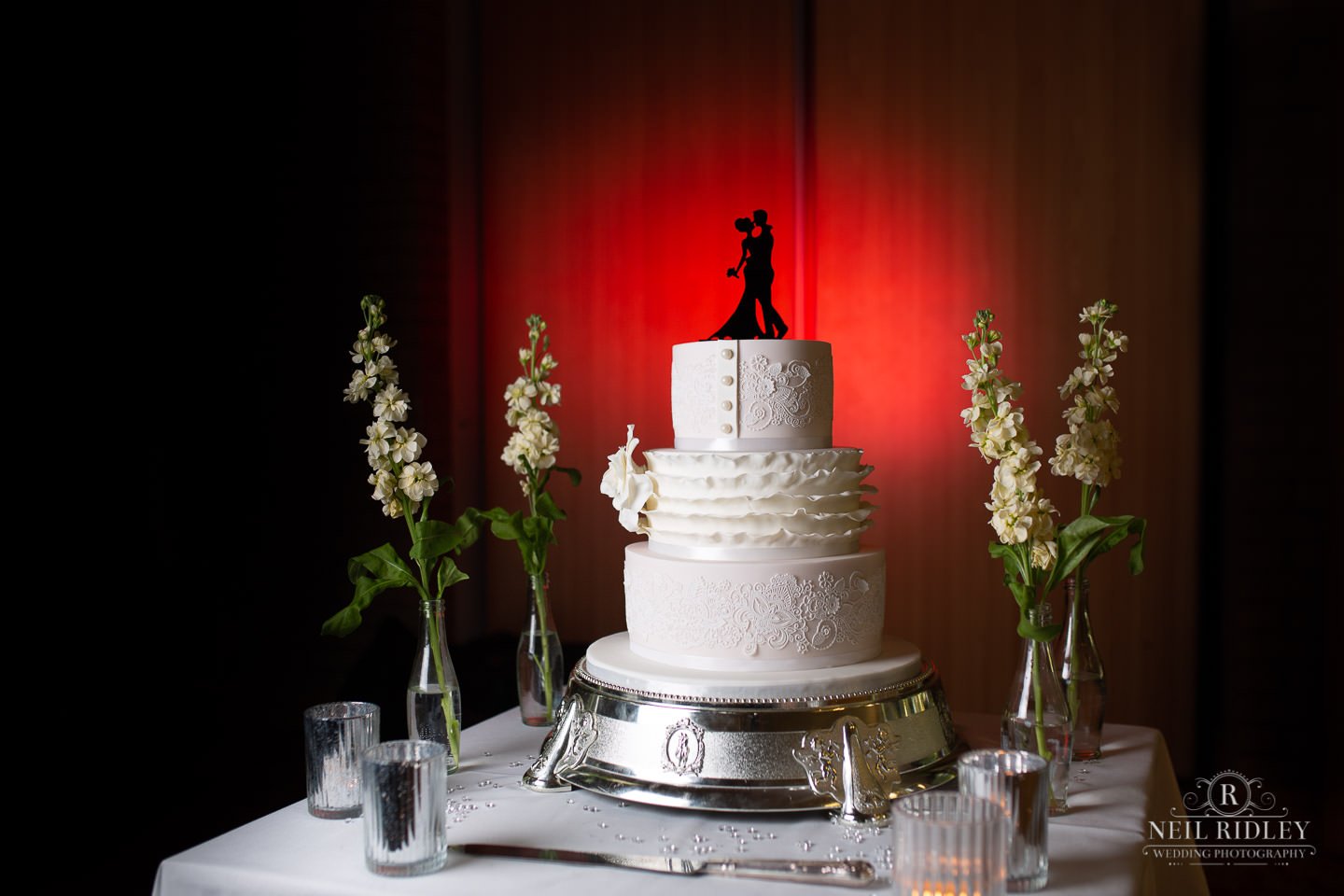 As the guests gathered around the dance floor to watch the new Mr & Mrs Rafferty take to the dancefloor for their first dance they were welcomed with lots of cheer and love.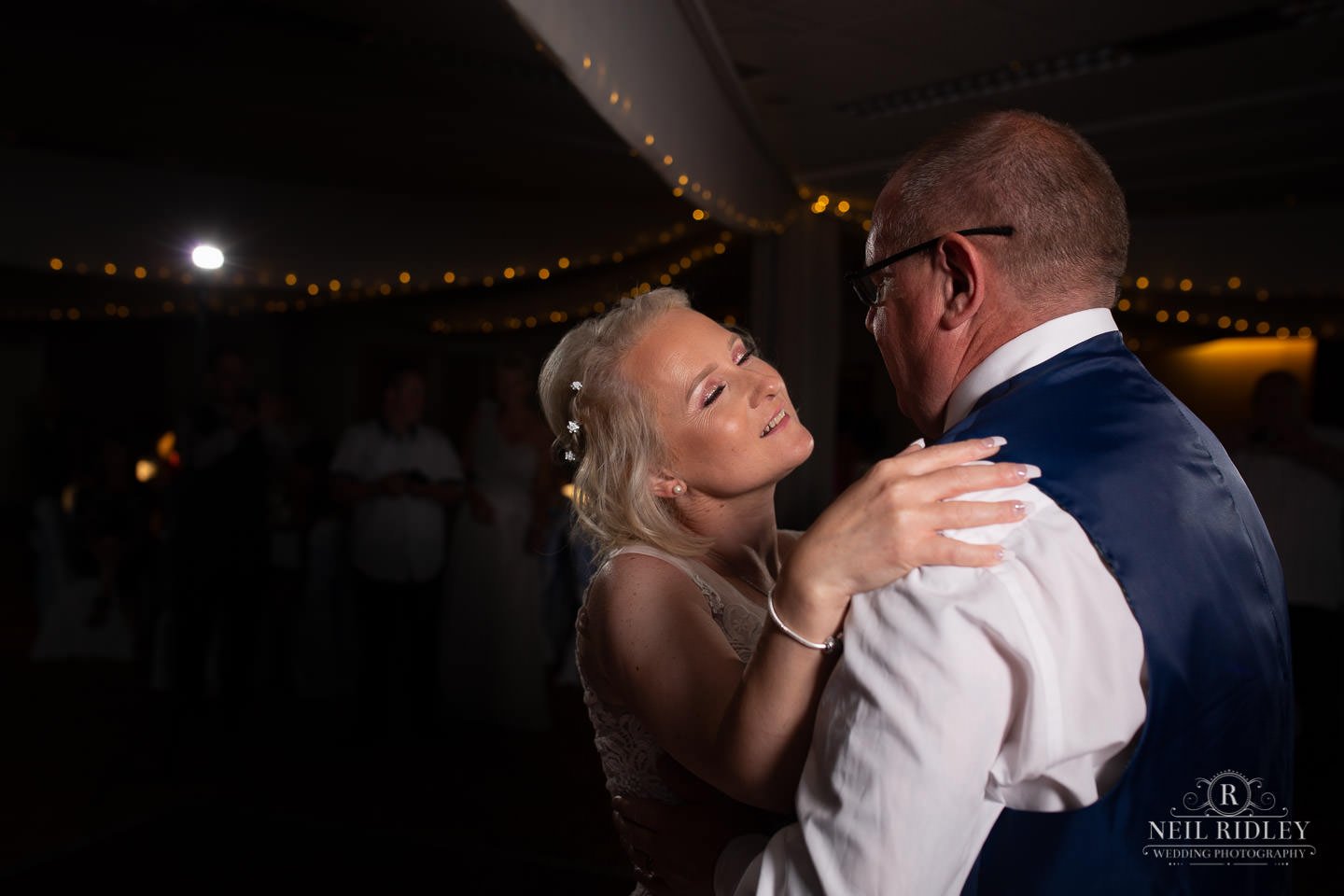 The celebrations took off as the music played on and the guests had a blast on the dance floor
Dave and Sharon's wedding day was perfect in every way. The love they have for each other is clear for anyone to see, and I feel privileged to have been a part of their day.
[sc name="endbit"]
(Visited 28 times, 1 visits today)