Would I like to shoot a blessing on a Beach in the UK? Followed by a service on Blackpool Promenade? During a Pandemic? Pfft – Who else gets this opportunity? I have always loved being a Lancaster Wedding Photographer and here was my chance to do it again.
Kelly & Steve had a unique approach to wedding planning. Sort of a 'wait and see' approach. They had a general idea of how they wanted their wedding day to go, then they kind of left it up to fate to make sure it happened! Usually I have a detailed plan of what is happening and when, with Kelly it was more a case of wait and find out. It was kind of liberating not to be tied to a timeline. Due to the Pandemic we hadn't had a Pre Wedding Shoot, but as I've known the couple for a few years we didn't need one to get to know each other.
Kelly had always said that if she was to get married it would be on the beach at sunset in the tiny village of Silverdale, Lancashire. A little known village almost on the border of Cumbria but still inside Lancaster, right on the coast and enjoying the amazing sunsets we get in the North West. Luckily all her stars aligned and we had a beautiful day followed by and amazing sunset and warm evening.
Kelly and Steve are very much 'outdoor' people. They camp, explore, build and teach their two children Molly & Flynn everything there is to know about life. Its amazing to see. So when Kelly told me that her plans involved a campsite, a groom in shorts and trainers, a sunset beach wedding and possibly a wedding dress swim I was all over it.
This wedding took place in September 2020 when we weren't in a Lockdown and the rule of six was in place. If at any point the images look like Social Distancing was not being adhered to, please remember that the camera view may be distorted by parallax, distance compression or I simply took the image from an angle that made it look this way. All Social Distance requirements were observed and everyone stuck to their bubbles.
All the wedding guests camped in tents at the Gibraltar Farm camp site, right on the coastline.
Kelly got ready in her tent with her daughter Molly who was enjoying practising being an officiate.
Could I have asked for a more perfect backdrop for a wedding service? With friends and family sat around on the cliffs watching the ceremony Molly & Flynn bounced from rock to rock alternating between taking part in the ceremony and making hats from carrier bags.
Due to the archaic Marriage Laws in the United Kingdom this service had to be counted as a 'blessing', not a legal marriage as no beach is considered a 'Designated Place', but that made absolutely no difference to the genuine emotion and commitment shown in front of friends and family during the service.
Wedding shoes abandoned in the mud as we made our way to the beach.
Apparently the Champagne wasn't that great so Kelly & Steve decided to pour it over each other.
Just chilling in a tide pool wearing a wedding dress as you do. I was up to my waist in sea water here holding thousands of pounds worth of camera gear just above the water.
Shortly after this, Kelly climbed into a shower whilst wearing her dress to wash the big bits off. Amazing!
Part Two – The Seaside Bride
Not content with having one dress and one service, Kelly elected to have another Wedding Day, this time on Blackpool Sea Front, this time to satisfy those pesky legal requirements.
Getting ready at the Grand Hotel in the Promenade brought back memories. I worked there as a waiter when I was 16! Makeup was skilfully handled by Daniella Makeup & Hair.
Wedding Dr Marten Boots….. Very Kelly.
Kelly's plan to walk down the Promenade to her Wedding had to be changed to a short dash in a taxi as time was ticking away.
Meanwhile at the Wedding Chapel Steve was looking dapper as he waited for his Bride.
I sometimes forget just how tall Steve is.
It was a bit windy out on the balcony!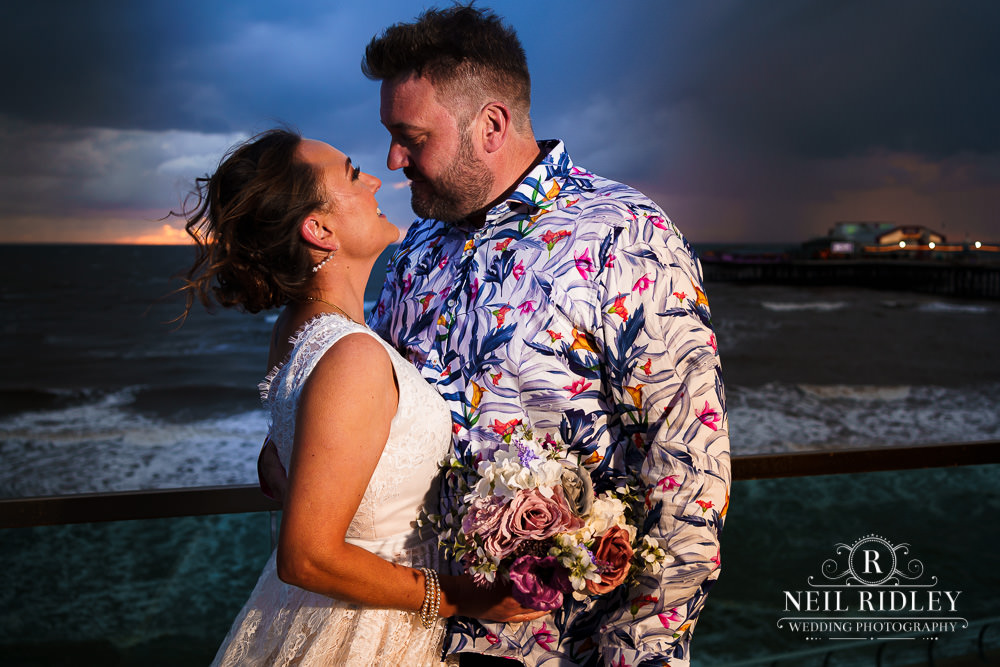 Then we had 2 trams for the 15 people to travel to Bispham and home. There may have been a couple of drinks consumed on the trams…..
Honestly, Steve was much happier than he looked, Kelly always used a glass……
There was also a quick trip inside the arcade…. What Blackpool wedding doesn't involve the penny slots?
A quick wander down the street at 8pm in a wedding dress.