Pre Wedding Photo Shoots
Lancashire Wedding Photographer
Quite simply, I love Pre Wedding Shoots, or Engagement Shoots or E-Shoots, or whatever people want to call them this week.  A Pre Wedding Photo Shoot is a great way for me to get to know my Brides and Grooms in an informal way before the hustle and bustle of the wedding day.  I even have a favourite spot for Pre Wedding Photo Shoots, it is Beacon Fell near Garstang in Lancashire.  Its an amazing foresty type place on a hillside with great views from Barrow-in Furness in the North to Lytham in the South on a good day.  The elevation gives us a great backdrop for portraits and the forest environment means that we can shoot lots of different looks without having to travel far.
As its just the three of us on the shoot and we don't have an audience, I find that my Brides and Grooms relax quickly and are soon just having fun in the woods.  Quite often they forget I am taking pictures 🙂
Here Bonnie and Owen are trying to recreate the Log scene from Dirty Dancing!
Dramatic skies are common in my neck of the woods, and when you have a great sunset, a willing couple and a flashgun on a stick, well, we can make magic happen 🙂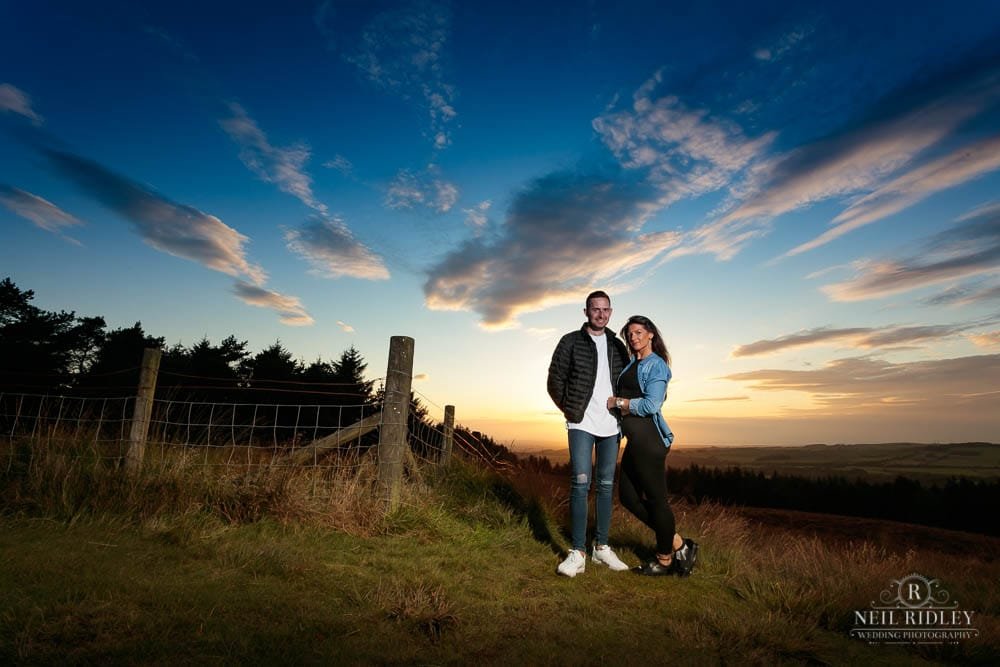 I can also create something completely different to the norm.  Here, Kim and Lee said that they wanted something on the dark side, so using flash in the daytime we made this 🙂
Bright and airy is fun too!  Here Catherine and Liam are just relaxing for a minute while I went hunting for light pockets to play with.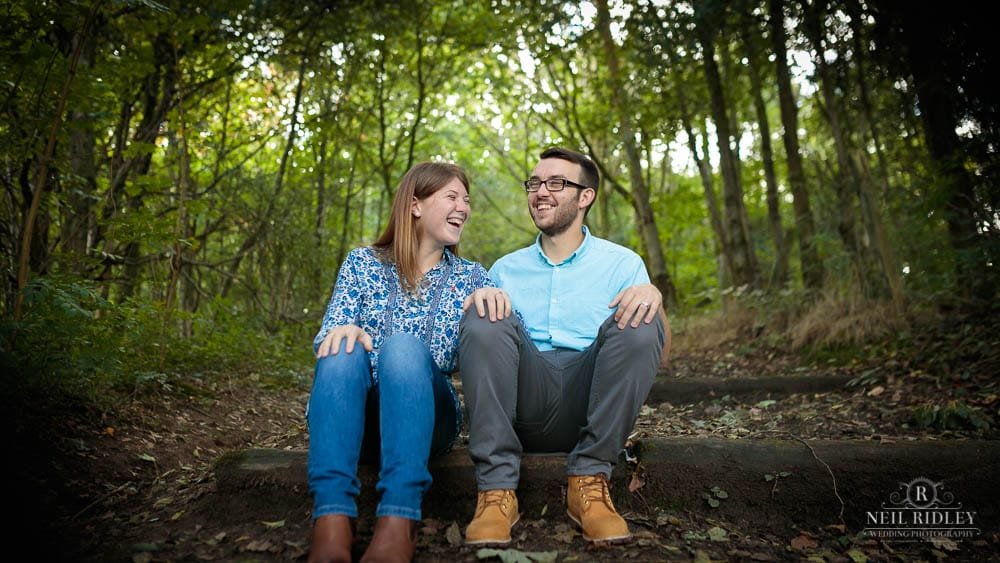 Horses tend to play a part in my Pre Wedding Shoots too.  Catherine and Liam had a couple walk straight through their shoot….
…and Hayley and Adam nearly had to catch a rider being thrown by her horse…
Henna and Sonni are both professional dancers, Henna is also a model.  There is nothing easier in the world than getting a model to pose 🙂 These two lovelies also popped behind some trees for an outfit change in the middle of the forest!
Not all my couples start off relaxed and excited.  When Cat and Chris arrived I could tell that Chris wasn't mad keen for the experience, let's be honest, a romantic Pre Wedding Photo Shoot is not high on many men's 'to-do' list.  However, Chris soon relaxed and ended up really enjoying it.
A great sky, a cool reflection and a relaxed couple, the simple ingredients for a great image.  I love reflections, not just on Pre Wedding Photo Shoots but whenever I am shooting.  Check through some of my Wedding Blogs and you will see that I am always looking for a new angle, a different point of view and a cool reflection.  Sometimes subtle, sometimes blatant.  The image below is an example of a blatant reflection!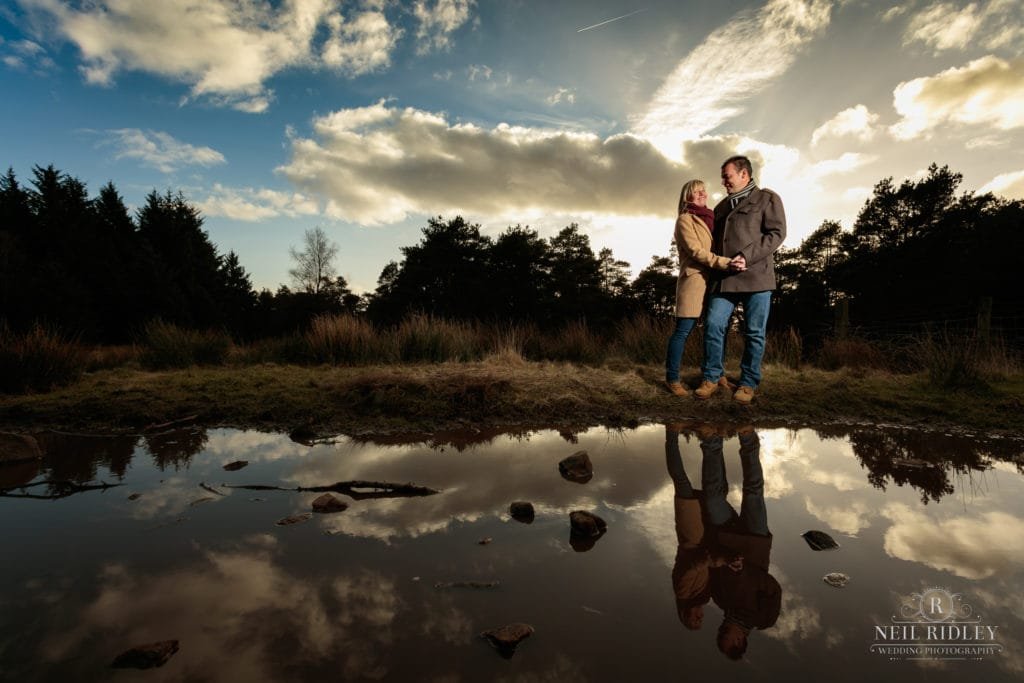 Another beautiful thing about Beacon Fell, it really doesn't matter what the weather is like.  If its raining, foggy or sunny we will get great shots.
Snow
Rain
Fog
Blazing Sunshine
So when should you have a Pre Wedding Photo Shoot & what should you do with the images?
Well, that's entirely up to you.  Some couples have theirs as soon as they get engaged, others leave it until a month before the wedding day.
Some couples keep the images just for themselves, others share them on social media.  Some couples have their favourite image blown up in a frame and ask guests on their wedding day to sign around the frame.  Everyone is different. Do whatever makes you happy 🙂
Won't everyone be staring at us?
Beacon Fell is a great location for shoots and however busy it appears from the car park I can guarantee that just a few minutes into the walk we will feel like we are the only people on the hill.
Step off the path into the trees and we are in another world 🙂 I have shot Pre Wedding Photo Shoots on 'busy' weekends and literally not seen another couple.
How do I get a Pre Wedding Photo Shoot?
I include a Pre Wedding Photo Shoot in my Silver, Gold and Platinum packages. It is also available as an add-on to my mid-week packages or as a stand-alone option for just £250.  All the images are provided logo free and with an unlimited print license, so you can do pretty much whatever you like with them 🙂
I hope you have enjoyed reading this blog, if so I would really appreciate you leaving a comment and sharing this post on Social Media by clicking any of the icons here [wd_hustle id=social-sharing type=social_sharing]
Please do not hesitate to Contact Me if you would like to discuss your Wedding Photography Requirements or have any further questions.
(Visited 21 times, 1 visits today)